Things to do in Kansas City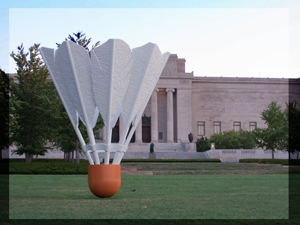 The Nelson-Atkins Museum of Art located in Kansas City Missouri is home to 33,500 objects that are some of the most unique pieces of art in the world. Its very lawn houses the world's largest shuttlecocks created by Claes Oldenburg and Coosje van Bruggen. The best part is that admission is free, with some exceptions for special exhibitions, so you can come and enjoy the art at your leisure. The museum is open to the general public Wednesday from 10am until 4pm, Thursday and Friday from 10am until 9pm, Saturday from 10am until 5pm and Sunday from noon until 5pm. It is closed on Mondays, Tuesdays and major holidays. The museum also has the Rozzelle Court restaurant that is open Wednesday thru Saturday for lunch 11am until 2pm and for beverages or desserts from 2pm-4pm. Fridays they have dinners from 5-10:30 and Sundays they have brunch from noon until 3pm. Rozzelle Court restaurant is a great place to relax and unwind. The museum also offers a large variety of tours. School groups and groups of adults 6 or more who would like a tour should make reservations, smaller groups or groups that would like to do the mobile audio guided tour do not need to make reservations. The Nelson-Atkins Museum of Art has collections from all over the world that range from antique to modern so no matter what your taste is there is something here that everyone in your group will enjoy.
Avis Rental Cars has the ability to provide you with the lowest rates for Rental Cars in town. Rates so low we are practically giving you a license to steal. Avis offers coupons and discounts for vehicles throughout the year including some the of the holiday and peak seasons. Be sure to check the latest rates and specials for Avis Rental Cars in Kansas City, Missouri!
Where to eat in Kansas City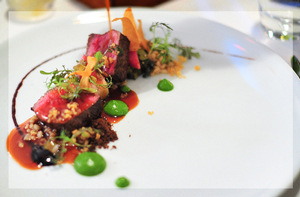 If you're looking for an upscale meal in a relaxed environment bluestem is the place to go. Bluestem is a truly sophisticated restaurant created to allow you to enjoy your time there as well as the food. To assure that the food is constantly to their high standards they have a small staff with two chefs who are also owners how opened this restaurant in 2004. Bluestem has an unique layout to their menu and the pricing, you can get three courses for $60, five courses for $70, or ten courses for $100, additional charge for wine pairings. My personally favorite dish is the smoked lamb, barbecue glace, wild rice and beans topped with sweet onion jam and sour cream. Bluestem is open Tuesday thru Saturday from 5:30 pm, the lounge is open from 5pm until midnight, Sunday brunch is from 10:30am until 2:30pm, closed on Mondays. Happy Hour is Tuesday thru Friday form 5-7 pm. The restaurant is located on I-35 exit 1A and then south on Summit Street. Bluestem also accommodates for private parties, smaller parties around 45 people can be held in the Dining room while larger parties around 95 people can be held in the Lounge. They also do small offsite parties where the chefs and staff will come to the location of your choice.